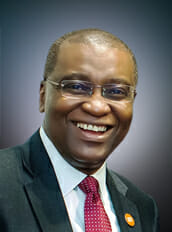 MR.  SEYI OBAKIN (OBE) Officer of the most excellent Order of the British Empire – PATRON
Seyi Obakin is Chief Executive of Centrepoint, the leading charitable organisation in the United Kingdom (UK) working with young people, especially those who are at risk of homelessness. An alumnus of the University of Ibadan and the London Business School, he became a chartered accountant in 1986. Prior to leading Centrepoint, his endeavour spanned professional accounting, finance and housing with various roles in firms such as PricewaterhouseCoopers, Citibank, the Nigerian affiliate of BNP Paribas, and Metropolitan Housing.
As well as being CEO of Centrepoint, he influences UK national policy especially around skills, employability, social security and justice, working with ministers and senior civil servants. He sparked a global debate in 2009 about homelessness and how to end it after inviting His Royal Highness, The Duke of Cambridge (Prince William), with whom he still works actively, to spend a night sleeping rough on a London street.
He served previously as a United Kingdom Commissioner for Employment and Skills and is currently a member of the UK Government Social Security and Advisory Committee as well as being a non-Executive Director of Her Majesty's Prison and Probation Service. He is also Chairman of Bids Consulting, a privately owned UK-based management consulting company, Director of ServiceMaster (West London) Limited and Chairman of Tobi Adeyemi Foundation, a grant making charity supporting disadvantaged young people across the world. He has been formally recognised as one of the most influential black people in Great Britain and was awarded an OBE by Her Majesty The Queen for his services to youth skills, employment and homelessness. He was instrumental in raising the funds that was the seed property purchased by the Lifeforte Organisation in the early 1990s and remains committed to the school's vision.
---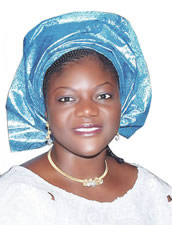 HER EXCELLENCY MRS. OLUKEMI MIMIKO – PATRON
Her Excellency, Mrs. Olukemi Mimiko was the first lady of Ondo state. She attended the prestigious University of Ife now Obafemi Awolowo University, where she obtained a B.A. (Ed) in French in 1987. She taught for a period and in 2000, she crossed to the Ondo state civil service as an Education Officer. Later, she joined the Civil Service Administrative cadre. A woman of many parts Mrs. Mimiko's entrepreneurial skills alongside her husband contributed to the success of the family farming enterprise the Iroko Farms famed for its vast fish stocks.
Known as a tireless goal-getter and an achiever, her sense of empathy and quest to positively impact people in the areas of health, education and total wellness motivated her to establish the MaternalPulse Foundation. The efforts of the Foundation is directed chiefly towards giving support to families with multiple births, medical assistance to indigent patients, particularly cancer patients, mentorship of the girl child, women empowerment and capacity building.
Three of Mrs. Mimiko's children are alumni of the school and she is firmly committed to our vision. Two attributes stand out clearly amidst the paragon of virtues – her sense of optimism and foresight.
---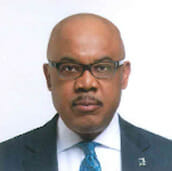 ELDER URUM KALU (UK) EKE, MFR. EXECUTIVE CHAIRMAN, FAIRCHILD GROUP – CHAIRMAN
UK Eke, MFR is the immediate past Group Managing Director, FBN Holdings Plc who held office as Group Managing Director from January 1, 2016 until December 31, 2021. He joined the Board of FirstBank, an FBN Holdings Company, in 2011 as Executive Director, Public Sector South and until his appointment as GMD of FBN Holdings was Executive Director, South. His sound managerial and motivational skills, coupled with his vast experience, helped develop FirstBank's businesses within the Public Sector, Retail and Private Banking Groups as well as on the Board. In 2017 he was appointed to the board of Nigeria Sovereign Investment Authority.
Before his appointment to the Board of FirstBank he was Executive Director, Regional Businesses, Lagos & West, Diamond Bank Plc. His other work experience spans Deloitte Haskins & Sells International where he rose to a Senior Audit Consultant. At Diamond Bank Plc, he was Branch Manager, Regional Manager and Divisional Head before he became Executive Director. He has over 30 years' experience in financial services, auditing, consulting, taxation, process engineering and capital market operations.
UK, a Fellow of the Institute of Management Consultants, Fellow of the Institute of Directors, and a Fellow of the Institute of Chartered Accountants of Nigeria, holds a first degree in Political Science (University of Lagos) and an MBA in Project Management Technology (Federal University of Technology, Owerri). He is a Non-Executive Director of First Bank of Nigeria Limited and FBNQuest Merchant Bank Limited.
A philanthropist and mentor to many, he is a ruling Elder of the Presbyterian Church of Nigeria, Lekki Parish and a Paul Harris Fellow of The Rotary Club International. He is a recipient of Nigeria's National Honour of Member of the Order of the Federal Republic (MFR). UK is happily married with children.
---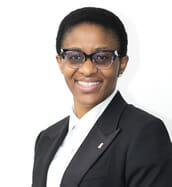 MRS. NNENNA MARYANN OBIEJESI – VICE-CHAIRPERSON
Mrs. Nnenna Maryann Obiejesi serves as a Group Executive Director in Nestoil Limited, Nigeria's largest indigenous Engineering, Procurement, Construction and Commissioning (EPCC) Company in the Oil and Gas sector.
Trained in the University of Nigeria, Nsukka, and The London School of Economics Mrs. Obiejesi holds a Masters Degree (LLM) in International Business Law.
She has 30 years of local and international experience in legal matters as well as Business Planning and Development.
After her call to the Nigerian bar, she worked with Messrs Chike Chigbue & Co. [SAN] and Ike Obiora & Co [Legal Practitioners] where she practiced forensic advocacy under experienced and versatile Principals. She is an Associate Member of the Chartered Institute of Arbitrators of The United Kingdom, and a Member of The Nigerian Bar Association.
Mrs Nnenna Obiejesi who is an advocate for youth empowerment, is also a member of the Board of Trustees of the Obijackson Foundation.
The Obijackson Foundation is dedicated to improving the socio-economic wellbeing of the nation's people through improved access to good quality education and good healthcare, in addition to cultural enrichment.
Nnenna is married to Dr Ernest Azudialu-Obiejesi and they are blessed with children and grandchildren.
---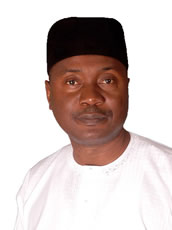 MR. THOMAS ETUH – MEMBER
Mr Etuh is the former Chairman of the Board of Directors of Unity Bank Plc. He is also the Group Managing Director / Chief Executive Officer of TAK Continental and the key promoter/ pioneer Chief Executive Officer of Company and the President of Fertilizers Producers & Suppliers Association of Nigeria (FEBSAN). He holds a Post Graduate Management Diploma from Abubakar Tafawa Balewa University, Bauchi.
He has attended several local and international leadership and Management Courses in prestigious business schools such as the London Business School (LBS). He also attended the Chief Executive Programme (CEP) at Lagos Business School, and Advanced Management Programme both at the University of Navarra, Barcelona, Spain.
Thomas is currently a Director in Cape Cross Salt (PTY) of Namibia, and also served as Principal Partner of Thomasses and Associates Limited, Kaduna; Managing Director of Fitzom International Limited and Project Coordinator for Samson Corporation Limited (UK) under whom he helped develop four cotton ginneries in Northern Nigeria. He is an experienced entrepreneur and commodity trader and currently champions the Vision of the TAK Group as well as drives its Corporate Strategic Initiatives.
He is also a well known philanthropist who has contributed immensely to the Lifeforte vision and demonstrated his belief in Lifeforte as the school of choice.
---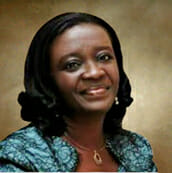 HON. JUSTICE JOSEPHINE EFUNKUMBI OYEFESO (MRS) – MEMBER
Hon. Justice Josephine Efunkumbi Oyefeso is a serving judge of the High Court of Lagos State. She holds a Bachelor of Arts degree in History from the University of Lagos and an LLB from the University of Warwick, Coventry, UK. She was called to the Nigerian Bar in 1986. She obtained her LLM from the University of Lagos in 1998. She practiced law for a few years and then moved into banking and worked with one of the merchant banks in Lagos in the International, Treasury and eventually Legal departments. She rose through the ranks until she became the Company Secretary/Legal Adviser of the bank.
She was sworn in as a Judge of the High Court of Lagos State on 24th May 2001. She has served in the Commercial, Family & Probate, General Civil, Revenue & Mortgage, Fast Track Divisions and is a designated EFCC Judge. She now sits in the Criminal Division and is also an ADR (Alternative Dispute Resolution) Judge. Justice Oyefeso is the Acting Chairman of the Governing Council of the Lagos Multi-Door Courthouse, the first Court-connected ADR centre in Africa. She is a CEDR (Centre for Effective Dispute Resolution, UK) Accredited Mediator and has successfully mediated a number of disputes. She is also a Member of the Chartered Institute of Arbitrators, UK.
Within the Judiciary, Justice Oyefeso was a member of the High Court of Lagos State (Civil Procedure) Rules 2012 Committee, a member of the Rules Review Committee. She is a member of the Judges Retreat Committee, the Committee on the Lagos State Judicial Institute, and chairs the ICT Committee of the Lagos State Judiciary. She is also in charge of arranging and coordinating the various trainings organized by the Judiciary for Judges, Magistrates and staff of the Lagos State Judiciary.
Justice Oyefeso is a member of the National Association of Women Judges of Nigeria (NAWJN), the International Association of Women Judges (IAWJ) and the Commonwealth Judges & Magistrates Association.
Justice Oyefeso serves as a Deaconess  in the Living Faith Church and is a member of the Ushering Service Group. She is a cell minister and is Chairman of the Zonal Fellowship Council of the Zonal Centre of the Church at Elf Zone, Lekki. She was a former member of the Board of Regents of Covenant University,  Canaanland, Ota. She is happily married to Pastor Wole Oyefeso and they are blessed with three lovely children, all part of the Lifeforte family.
---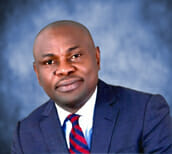 MR. EMMANUEL EFE EMEFIENIM – Member
Mr Emmanuel  Efe Emefienim sits on the Board of Sterling Bank Plc as Executive Director, Institutional Banking Group effective  February 2018.  He holds a B.Sc  (Hons) degree in Microbiology (1989), M.Sc  Banking. &  Finance (1995) and  MBA ( 1998), all from University of Benin, Nigeria.
Mr Emefienim has over 26 years  experience in the Banking Industry having worked in various middle and Senior Management levels within Operations, Treasury and Marketing functions since  1992.  He commenced his Banking career with Oceanic Bank ( now Ecobank Plc), Head, Credit & Marketing, 1992-1997; United Bank for Africa Plc, Manager, Commercial Banking, 1997 -2000 and then had a six – year stint at  Savannah Bank Plc and FSB International Bank Plc ( now Fidelity Bank Plc) before  joining  Equitorial Trust Bank (ETB) in 2006.  In ETB,  he was an excellent performer managing the entire South South region ; a position he retained post ETB/Sterling Bank merger in 2011.
Emmanuel has contributed immensely to the growth and success of Sterling Bank; Apart  from being awarded Best performing Group Head ( Regional Businesses) at various times, He remains the only Regional Head in the history of the Bank  to run the most profitable Regional Business bankwide for 7 consecutive years ( 2011-2017).  He was promoted to the position of General  Manager in 2016 with additional responsibilities to oversee the bank's Commercial & Institutional Banking franchise  in South South/South East  and Midwest Regions and was appointed to the Board of Sterling Bank Plc in 2018. as Executive  Director.
An alumnus of the Harvard Business School and the Wharton School Pennsylvania, Mr Emefienim is a performer of the highest quality. Over the years, he has consistently proven to be a worthy individual with outstanding leadership qualities. He has displayed an incredible depth of knowledge, skill and excellence. He has consistently delivered value, put forward his best and taken ownership as and when necessary.  Aside from Banking,, Mr Emefienim is an ordained  Pastor in the Redeemed Christian Church of God; His three year old parish, Champions Cathedral is the home to over 5,000 worshippers every Sunday.   He is passionate about soul winning, impacting lives and ministering to the less privileged.
Mr Emefienim is happily married to Priscilla, an  entrepreneur and also an alumnus of the Harvard Business School. They are blessed with five wonderful children.
---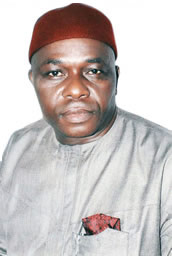 ENGR. NDUBUISI OKORIE (FNSE) – Member
Ndubuisi Benjamin Okorie, a civil engineer of no mean repute graduated from the University of Nigeria, Nsukka about 33 years ago. He started his professional career with Landscope Consultants, a firm of Consulting Engineers in Ibadan in 1986. He became a Partner in the firm in 1994 and held the position for 5 years until his voluntary resignation in 1999 in order to concentrate on nurturing Albencon Nigeria Limited, a firm he founded in 1997.
In conjunction with his international partners, Engineer Okorie has directed the affairs of Albencon Nigeria Ltd., leading to it's enviable status as a reputable Civil Engineering Construction Firm. Albencon Nigeria Limited has in the last 19 years executed various projects both at the state and Federal levels and also for the World Bank.
He has been a recipient of several distinguished awards, notably an award by the Tribune Newspaper as one of the 50 Most Distinguished Engineers in Nigeria and he is a fellow and member of many Professional Bodies including, The Nigerian Society of Engineers, Council for the Regulation of Engineering Practice in Nigeria (COREN), Association of Consulting Engineers (ACEN) and International Federation of Consulting Engineers (FIDIC). Engineer Okorie unequivocally endorses Lifeforte as his chosen institution for modeling young minds and developing sound character in the next generation.
The Advisory Council contact is:  advisorycouncil@lifeforte.com c/o Mrs Durotoluwa Sokoya  +2348073171348